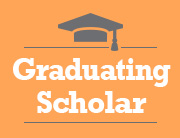 Small Town, Big Dreams understands that ongoing education can take a lot of different paths and encourages graduating seniors to think about their future goals with additional schooling as a key element. The Graduating Scholar program gives priority to students who not only are dreaming big but have worked hard to put a solid vision in place for obtaining their dream.  The program looks for candidates who need an extra push to believe in their dream.
To support their success,
Small Town, Big Dream can assist the graduating student with various costs both directly and indirectly related to ongoing education. It is the vision of Small Town, Big Dreams to ensure that our Scholars have the resources needed to stay in school and thus, the program is renewable for multiple years if the Scholar maintains communication.  Via ongoing conversation about opportunities and needs, Small Town, Big Dreams evaluates the gaps in funding with hopes of figuring out good solutions for filling the gaps.
Often Graduating Scholars anticipate multiple sources of funding to complete their education including parents, work, scholarships, and grants. The Graduating Scholar may attend a university, community college or technical school.
Any Willcox High School graduating senior.
Application Deadline: March 31st